Quartz Crystal Units for Space
AXTAL IS THE EUROPEAN REPRESENTATIVE FOR HIGH PRECISION AND SPACE CRYSTALS MANUFACTURED BY THE CANADIAN MANUFACTURER CROVEN CRYSTALS
Crystals for space applications, compliant to ESA specifications, are available for new applications and as replacement of obsolete suppliers.
Crystals in HC-35/U (TO-5) enclosure for the frequency range 8 MHz to 140 MHz:
ESCC3501/001
ESCC3501/008
ESCC3501/011
ESCC3501/012
Crystals in HC-37/U (TO-8) enclosure for the frequency range 2.5 MHz to 26 MHz
ESCC3501/002
ESCC3501/009
Furthermore customer specific variants are welcome. Please send us your inquiry.
UPSCREENING OF CRYSTALS WITH PROVEN QUALITY LEVEL FOR SPACE APPLICATIONS (SPACE-COTS CRYSTALS)
More and more space applications do not require the use of fully space-qualified crystals such as the ESA detail specifications ESCC3501/xxx. For example
► "New Space", "Cubesat" and other LEO missions with low or moderate radiation doses (TID < 25 krad)
► Applications where the crystal acts as a non-time-critical clock for micro-controllers etc.
For such applications AXTAL offers as special service the sourcing and up-screening of commercial quartz crystal units with proven quality level to so-called "Space-COTS Crystals" (SCS)
Sourcing can be
► from our principal "CROVEN CRYSTALS in Canada (ESA member country), or
► from a manufacturer with automotive certification (ISO16959), or
► from a manufacturer with aerospace certification (ISO/AS9100), or
► from a manufacturer with heritage for crystals for MIL applications, and
► with established statistical process control (SPC) and traceability
Up-Screening can be performed at different levels
► Screening according to MIL-PRF-3098 Level "S" or Level "B"
► Screening to a relaxed level "X", introduced and used by AXTAL for several space customers, see the following table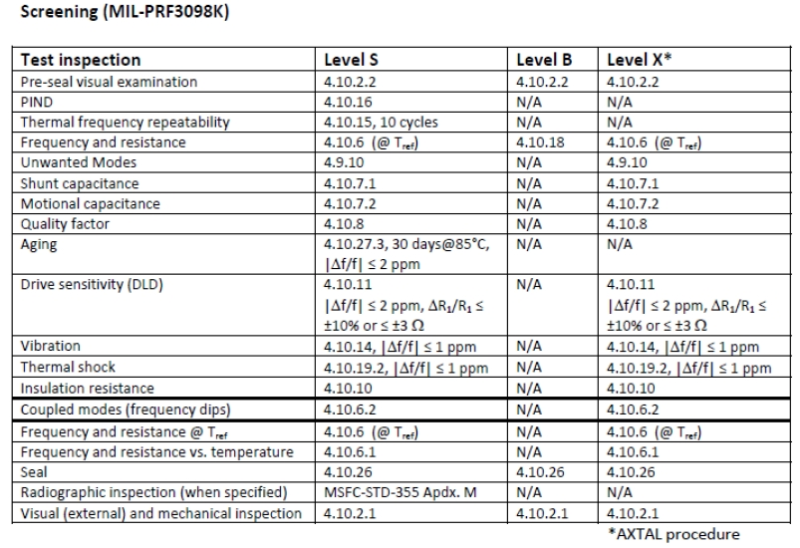 In addition the following tests can be offered as an option:
► Burn-in test according to ESCC3501, Level "B" or "C"
► Lot acceptance test (LAT) according to ESCC3501. Level 1, Level 2 and/or Level 3
► Evaluation tests according to ESCC2263501
For more information please see the following presentation
or contact the AXTAL specialists